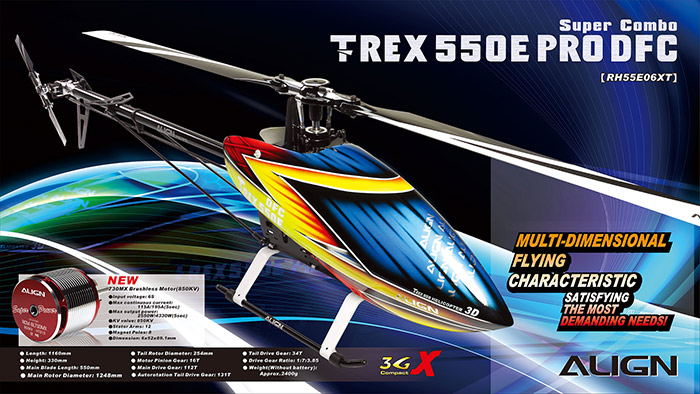 Brand new T-Rex 550E PRO DFC incorporates all new design elements, focusing specifically on upgrading the power with a 700 class motor, the 730MX (850KV). With a size that fall in-between large and small models, this brand new T-REX 550E PRO DFC features stability and agility, with superior power output that will guaranteed jaw dropping performance.

T-REX 550E PRO DFC is equipped with latest designs such as: DFC main rotor system, new 112T CNC helical main gear, new style tail drive assembly, new style tail control system, etc. The most talked about feature is the newly developed 730MX (850KV) motor, a motor normally found in 700 class helicopter but over spec for 550 class. Enthusiasts can clearly feel the dramatic increase in power and torque, while taking advantage of its higher efficiency, lower current and temperature benefits. In addition, the newly designed 2mm thick 3K carbon side plates not only enables the installation of wider 730MX (850kv) motor, they also simplify the structure, while maintaining high rigidity and easy maintenance.

The clean atheistic exterior, ergonomic design, and superior control feel; all are reasons for enthusiasts not to miss this value packed T-REX 550E PRO DFC!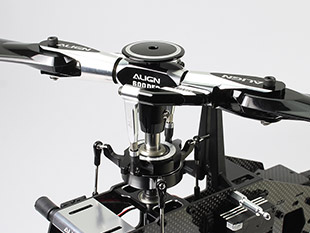 Equipped with the low CG DFC rotor head, exhibits exhilarating 3D performance and unimaginable flight speed.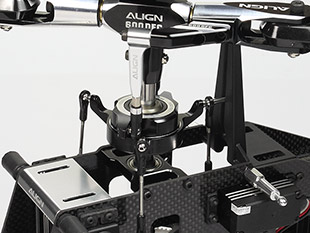 New DFC CCPM Swashplate and new metal body mount to increase body rigidity and added gyro placement location.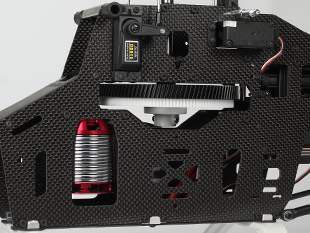 New 2mm 3K carbon fiber side frame for simple yet rigid frame construction, not only for easy assembly and maintenance, but also allowing capable of 730MX(850KV) motor to increase fight power.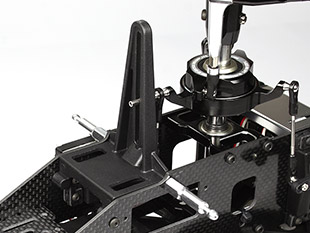 Integrated swash anti-rotation guide and gyro mounting platform.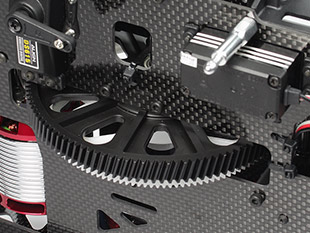 Equipped with new high strength cnc m1 helical main gear and tail drive bevel gear assembly, featuring reinforced overall gear structure and increased gear thickness, effectively improves gear's anti torsion ability to prevent gear from deforming under extreme power, reducing gear wear and power loss.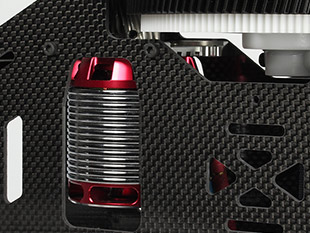 Power upgrade to 730MX(850KV) motor, the feel as If a turbo charger was added to the helicopter, capable of high efficiency, low current and low temperature, with dramatic 700 class flight performance in 550 class helicopter.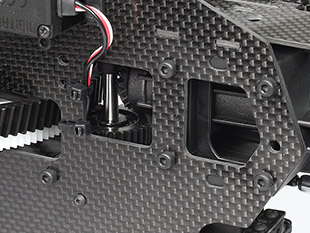 Utilizes newly developed, highest spec and superior anti-wear material to increase the overall strength and durability for torque tube drive gear. Effectively minimize gear striping and crash damage.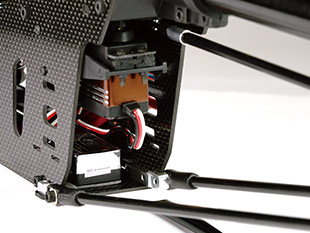 Rear mounted rudder servo mount & carbon fiber gyro mount.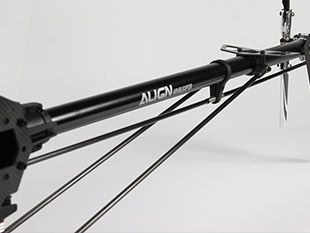 Equipped T-REX 600 class tail boom set, supporting with 600mm main blade and increase tail stability.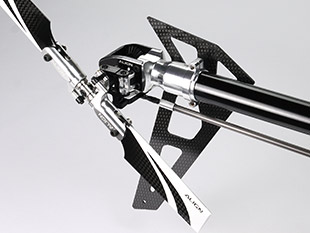 Brand new tail blade designed to sustain optimal tail locking performance under high head speed and extreme flight conditions.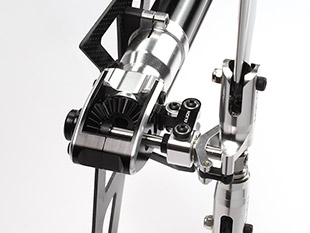 High quality new tail gearbox design, combined with new dual point mounted tail pitch control assembly to minimize slops and increase rudder control precision.
Standard equipment
●Castle Talon 90 Brushless ESC x 1
●730MX Brushless Motor(850KV) x 1
●DS615 Digital servo x 3
●DS655 Digital servo x 1
●3GX Flybarless System x 1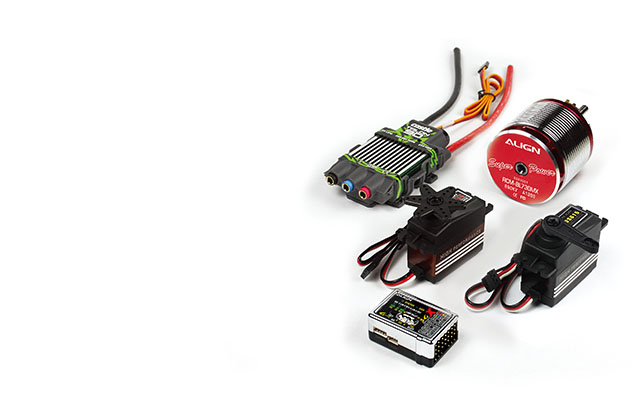 Specification
●Length: 1160mm
●Height: 330mm
●Width: 110mm
●Main Blade Lenght: 550mm
●Main Rotor Diameter: 1248mm
●Tail Rotor Diameter: 254mm
●Motor Drive Gear: 16T
●Main Drive Gear: 112T
●Autorotation Tail Drive Gear: 131T
●Tail Drive Gear: 34T
●Drive Gear Ratio: 1:7:3.85
●Weight(w/o power system): 2400g
Accessories
●T-REX 550E PRO DFC Kits Set x 1 set
●550 3G Carbon Fiber Blades x 1 set
●90mm Carbon Fiber Tail Blade x 1 set
●730MX Brushless Motor(850KV) x 1
●DS615 Digital servo x 3
●DS655 Digital servo x 1
●Castle Talon 90 Brushless ESC x 1
●3GX Flybarless System X1 set
Radio transmitter and electronic equipment required for assembly:
1.Transmitter(6-channel or more,helicopter system)
2.Receiver(6-channel or more)
3.Pitch gauge or Digital Pitch Gauge
4.6S Li-Po 2600~5200mAh battery x 1
3GX Programmable Flybarless System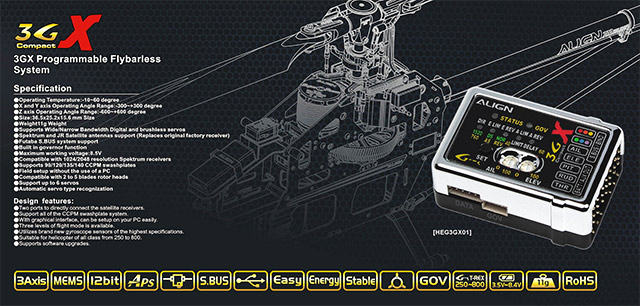 ●Brand new redesigned 3GX represents a new generation of multi function flybarless system. The dramatically improved performance will create immediate impact on any enthusiasts.
●3GX is currently the smallest and lightest flybarless system on the market. Two ports to directly connect Spektrum and JR satellite receivers, along with full support of Futaba's S-BUS system.
●Based on the 3G FL760 manual setup process, the 3GX can be setup in a few minutes through a simple process. In addition, the 3GX can support all of the CCPM swashplate system currently on the market including 90, 120, 135, and 140 degrees swashplates.
...
[+] More
3GX Programmable Flybarless System
●Operating voltage range:DC 3.5V~8.4V
●Operating current consumption:●X and Y axis Operating Angle Range:-300~+300 degree
●Z axis Operating Angle Range:-600~+600 degree
●Sensor resolution:12bit
●Supports 90/120/135/140 CCPM swashplates
●Spektrum and JR Satellite receivers support (Replaces original factory receiver)
●Futaba S.BUS system support
●Supports Wide/Narrow Bandwidth Digital and brushless servos
●Compatible with 2 to 5 blades rotor heads
●Built in governor function
●Maximum working voltage:8.5V
●Compatible with 1024/2048 resolution Spektrum receivers
●Field setup without the use of a PC
●Support up to 6 servos
●Automatic servo type recognization
●Operating Temperature:-20~60 degree
●Operating Humidity:0%~95%
●Size:36.5x25.2x15.6 mm Size
●Weight:11g